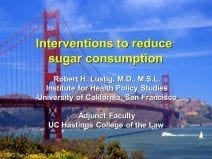 "Mountain Dew Mouth" has been a scourge for dentists for decades. But there is a new disease that is affecting even more people: Mountain Dew Liver. Even though non-alcoholic fatty liver disease (NAFLD) wasn't discovered until 1980, up to 1/3 of Americans suffer from it including children: 13% of autopsies in children and 38% of obese children show NAFLD.
The rates of tooth decay and NAFLD have been increasing with excessive sugar consumption contributing to both.
Dietary sugar is composed of one molecule each of glucose and fructose with fracture being the primary driver of both diseases. While fructose doesn't contribute to the mouth biofilm, it is metabolized by the oral bacteria into lactic acid which readily diffuses through the biofilm and into the tooth. Fructose is then turned into fat in the liver mitochondria which drives NAFLD which has now surpassed alcohol as the leading cause of liver transplantation. Children are the most susceptible to both diseases because they are the biggest sugar consumers.
Physicians and dentist must be united in supporting public health measures to reduce chronic disease which includes diet modification.
Educational Objectives:
Describe why sugar not only destroys teeth but also causes liver disease
Explain how the sugar molecules are metabolized to in the liver
Learn why physicians and dentists need to work together to reduce prevalence of these chronic diseases
Level of skill recommended for participants:
Of interest to Dentists, Students & Residents, Dental Auxiliaries, families and Dental Office Staff
Refund Policy:
There are no refunds for Online CE courses. For any questions, please contact CSPD Executive Director, Paul Reggiardo, DDS, at preggiardo@cspd.org

Legal Disclaimer:    The CE provider (CSPD) uses reasonable care in selecting and providing content that is accurate. The CE provider, however, does not independently verify the content or materials. The CE provider does not represent that the instructional materials are error-free or that the content or materials are comprehensive. Any opinions expressed in the materials are those of the author of the materials and not the CE provider. Completing one or more continuing education courses does not provide sufficient information to qualify the participant as an expert in the field related to the course topic or in any specific technique or procedure. The instructional materials are intended to supplement, but are not a substitute for, the knowledge, expertise, skill and judgment of a trained health care professional.

Privacy Policy:   CSPD.org/oce is the continuing education website of the California Society of Pediatric Dentistry. We respect the privacy of the users to the site. The Privacy policy addresses our use of the information collected by virtue of your use of CSPD.org/oce.

The information we collect on our website is used to improve the content and to advance our mission of exceptional online continuing education.

We may collect the domain name and the IP address of visitors to our website, use statistical software to create aggregate and user-specific information on the pages that our users visit. From purchases and/or registrations, email addresses may also be collected.

We use cookies that enable us to administer our website more effectively in the transmission of online education.

You have the right to contact us in any matters that pertain to your privacy and we will promptly correct inaccuracies that may appear.

We may use industry-standard encryption technologies when transferring and receiving consumer data exchanged on our site. When users make payments via credit cards, we submit the information needed to obtain payment to the appropriate clearinghouses. We do not store or reuse this credit card information unless you have given us your authorization.
CE Policy:

The California Society of Pediatric Dentistry (CSPD) is an ADA CERP Recognized Provider Approved by the American Academy of Pediatric Dentistry. ADA CERP is a service of the American Dental Association to assist dental professionals in identifying quality providers of continuing dental education.
ADA CERP does not approve or endorse individual courses or instructors, nor does it imply acceptance of credit hours by boards of dentistry. Concerns or complaints about a CE provider may be directed to CSPD at (916) 231-2142 or to ADA CERP at www.ada.org/cerp
Credit is awarded on an hour-for-hour basis. Each attendee should claim only those hours of credit that he or she was in actual attendance of the educational activity. Participants should retain this document for their records.
Original Continuing education certificates are subject to Dental Board of California audit and should be retained by the licentiate for a period of six years. Completion of these courses does not constitute authorization for the attendee to perform any services that he or she is not legally authorized to perform based on his or her license or permit type. This course meets the Dental board of California's requirements for above designated units of continuing education.
Course Materials Features
Lessons

2

Topics

0

Quizzes

1

Students

6

Certificate

Yes

Assignment

No

Category

Current Topics

Lecture Length

180 Minutes

Original Release Date

October 15, 2018

Review Date

September 23, 2020

Expiration Date

September 23, 2023
View lecture, take and pass quiz before receiving your CE certificate. You must score 70% or higher to pass.
Ratings and Reviews